Brigadier general bud & doris day
Interpretive Center
Educate, Honor and Empower
The Brigadier General Bud and Doris Day Interpretive Center
Now Open
We will be open on the following Saturdays from 10 am – 4 pm:
Saturday, December 2nd
Saturday, December 9th
Saturday, December 16th
*More regular hours for 2024 will be announced soon!
Groups are encouraged to call President Mike Newhouse at 712.253.0063 to schedule a tour.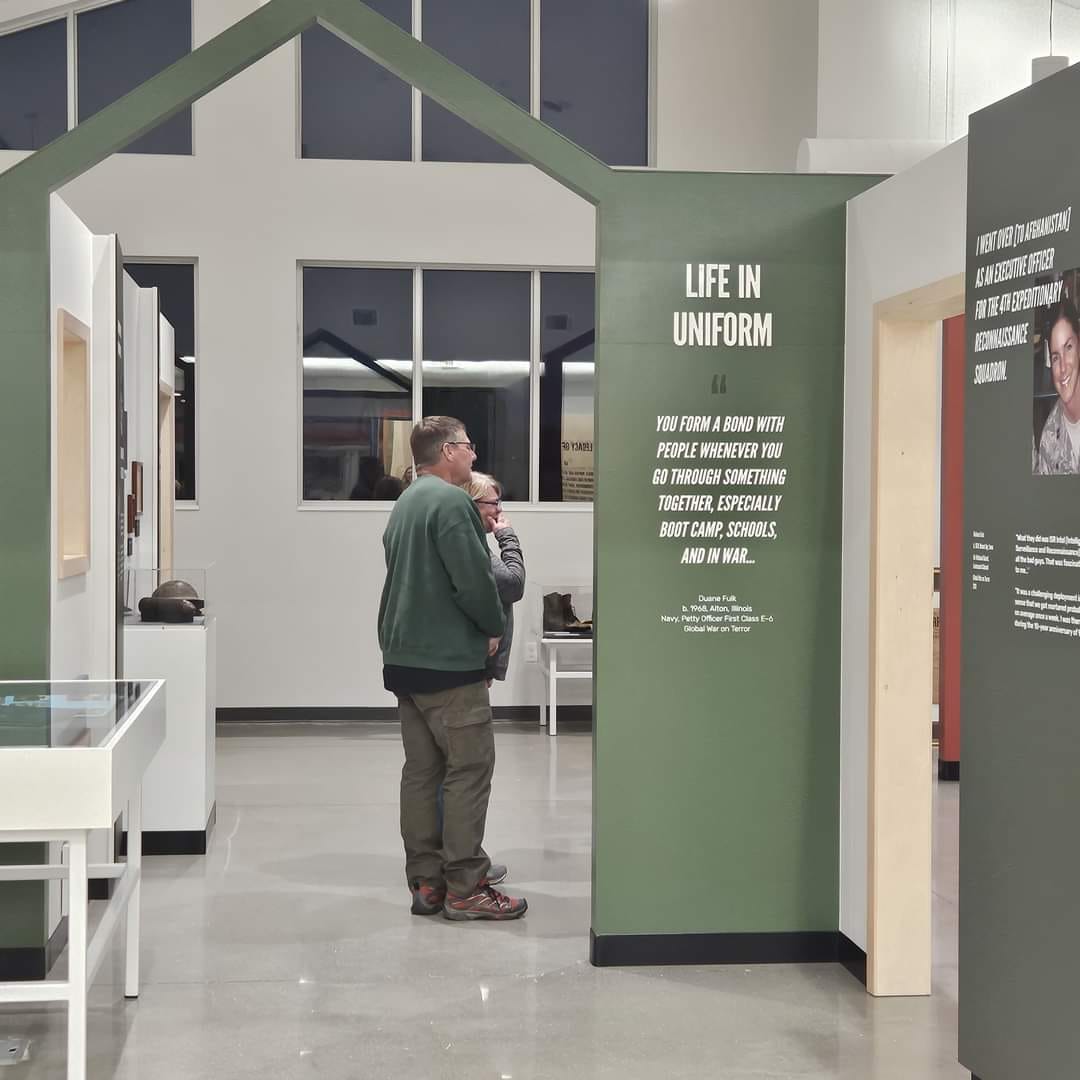 Every Veteran Has a Story
It's amazing to see how far the Interpretive Center has come in 4 years! Here's a video from late 2019 featuring Siouxland Freedom Park President, Mike Newhouse and retired South Sioux City High School teacher, Steve Shadle, on the importance of opening the Interpretive Center.
Throughout the Brigadier General Bud and Doris Day Interpretive Center, interactive displays, memorabilia, and exhibits share the powerful, personal stories of Siouxland veterans. Visitors can travel with them through each phase of the Military Life Cycle: Enlistment/Induction, Life in Uniform, Leaving Home, Coming Home, and Reintegration and Adjustment.
The gabled peak at the entrance of each exhibit represents "home" as service members tell what it was like to leave the comforts of civilian life to serve, faced the challenges of returning after life-changing experiences, and the emotional reunions with family who anxiously waited to welcome them back. Each branch of the service is represented, and touch screen monitors allow visitors to hear first-hand from individual veterans. Thirteen uniforms displayed in the Mike Newhouse Presentation Theatre represent service members from WWI to present day.
You're invited to come learn, explore, and reflect on the sacrifices made for the freedom we enjoy every day. Knowing that every individual will experience this emotional journey differently, please be respectful of other visitors as you tour the Interpretive Center. Siouxland Freedom Park volunteers will be happy to assist you and welcome your questions and comments.
Additional Exhibits are being planned:
BRIG GEN Bud Day exhibit
Veterans interview room
Display honoring first responders who have also served
Custom coat closet
D-Day parachute display
What Drives Us
Our Mission
Siouxland Freedom Park, a nonprofit corporation, honors American Veterans and the men and women currently serving the United States by providing education of the role the American military plays in preserving American's freedom, oral histories of those who served, and a healing place for reflection and contemplation.